Did you know that October 4th is National Cardmaking Day? I didn't either! well, My creative team manager had to tell me so, so I guess she knew it was. and probably a handful of you did know too.
Well I decided to make some card templates in honor of National Cardmaking Day! It'll be my perfect excuse to get some Christmas cards made.... or the slew of birthday cards I always have to send out at the end of the year.... lol
k, just so you understand this end of the year birthday rush I have, let me enlighten you... ;) First off, my birthday is Dec. 28th. Not a biggie though because I don't have to make a card for myself... then, my nephew was born on Dec 30th. 3 years later my son was due on Christmas day but ended up coming on Jan 3rd, and he shares the birthday with my cousin who shares the birthday with his girlfriend. now, 2 years later, we're expectig yet another Nephew on or around December 28th... and if you'll remember, that's my birthday. Now THAT'S a lot of birthdays! It makes me exhausted just thinking about it!!!
Now to get back to this whole Greeting Card business....
Here's a pack that has JUST been released right this morning! How's that for hot off the press?! And for today and tomorrow ONLY they will be just $1.99! Take a look:
And, just for you my faithful blog readers, I've made an extra card for you to have for free! This is a 4"x6" greeting card perfect for any occasion! (Click the image to download)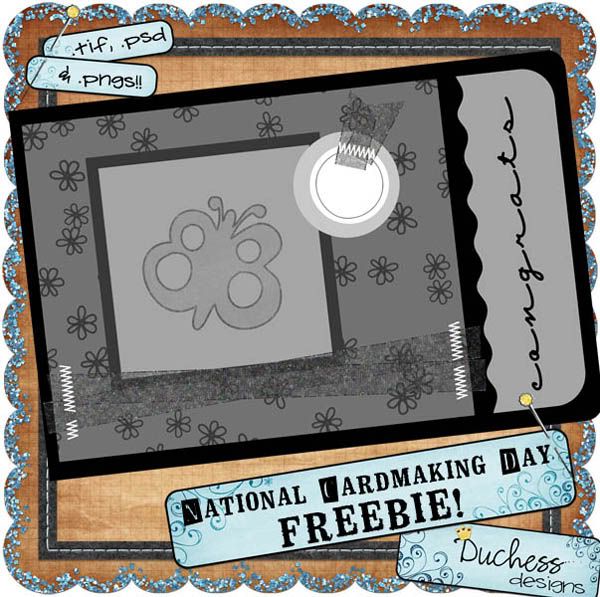 So be off, and spend today making a card for someone special on this National Cardmaking Day! (Hey does anyone want to make a birthday card for me???)
OH WAIT!!! I almost forgot! Tonight is our weekly Speed Scrap at Get Digi With It! Come join us at 10pm EST in this forum for all the fun!